August 19, 2009 | Animals
New Program on Animal Planet: Second Chance for Man and his Best Friend
Next month a new reality show titled "Pit Bulls and Parolees" debuts on Animal Planet. The program is already winning hearts and headlines for its compelling depiction of the Villalobos Rescue Center. This small desert kennel in Canyon Country, California, is a haven for abandoned, abused, and rescued pit bulls.
The Rescue Center was founded by Tia Maria Torres in 1995 in reaction to the high number of pit bulls who are destroyed every year in dog fights and pounds. It houses up to 250 dogs, helping rehabilitate traumatized animals, and providing obedience classes for pit bull owners.
Torres also offers a new start for another group that has a hard time being accepted by society: ex-cons. Villalobos' "Underdawgs" program provides room, board, and job training for parolees. The humans and the dogs help each other open up because they understand each other, says Torres.
"The dogs bring out the best in these guys," Torres explains.
According to Animal Planet, the show is about "a chance at redemption, rehabilitation and rebirth for both man and man's best friend."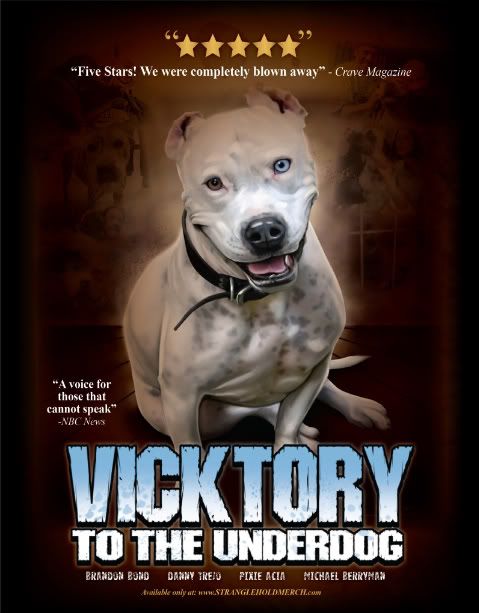 Vicktory to the Underdog available here:http://strangleholdmerch.com/vicktory-to-the-underdog-p-191.html`

"Vicktory To The Underdog" takes an in depth look at world renowned tattoo artist "Brandon Bond" and his dog rescue efforts - particularly rescuing the infamous Michael Vick fighting dogs.
Rather than focusing on the dog fighting problem, the movie sheds light on solutions leading to "Vicktory" for all the underdogs in the movie - tattooed people, pitbulls, parolees and all the other people in this world that society has turned their back on through ignorance and racism.
The movie also examines the life of Brandon Bond and his struggle with balancing fame, fortune and the Rock-N-Roll tattoo lifestyle with a more fulfilling life that focuses on the betterment of both animals and society as a whole.
Featuring celebrities like Debbie and Danny Trejo, Michael Berryman, Pixie Acia and Donal Logue, the movie takes you on an incredible journey you will never forget!


All Proceeds go to Villa Lobos Pitbull Rescue