by Heidi Minx
http://builtonrespect.com/

What is your job? I own 4 companies and am a consultant for another, I have been a tattoo artist for 17 years, and all my companies are centered around that. I own ALL OR NOTHING tattoo studio in Atlanta, GA (http://www.allornothingtattoo.com) and a Publishing Company in Marietta, GA (http://www.strangleholdmerch.com). I also own an animal rescue company (http://www.atlantapitbullrescue.com) where we focus on abused fighting dogs specifically, and raise funds for Villa Lobos (http://www.vrcpitbull.com) which is the largest pit bull rescue in the world. So I am an artist, a filmmaker, an editor, a publisher, a webmaster, a consultant, an event planner, a fundraiser, a business owner several times over, a dog catcher, a glorified babysitter, a stressball, and man do I need a vacation!


What social causes are most important to you? I have been involved over the years in a lot of charities. We do Toys for Tots every year, promote child cancer organizations, mosquito nets in Malaysia to prevent the spread of disease, as well as local Law Enforcement fallen officers type stuff. I have gotten extremely interested in wounded soldiers returning from the desert and what we can do for those men and women. However our primary focus has been rehabilitating abused Pit Bulls. I have been working with rescued pit bulls for over 13 years now, since I adopted my first one, and it has grown into a leviathan. In the United States alone we euthanize millions of perfectly healthy animals every year. Pit bulls are the most euthanized of all breeds and the most abused. It is ironic (tragic really) how in this country APBT's (American pit bull terriers) are abused so intensely by criminals, and then when we swoop in and "save them" it is the standard policy of almost all local and county governments that we euthanize them when they are no longer valuable as evidence. There is no safe haven for APBT's in our country, and they are the most abused breed of dog in the history of the world.


It's ironic because pit bulls are not and have never been bred for human aggression. The only way to get a pit bull to be aggressive is to torture that animal. Even dedicated individuals who fight dogs regularly will tell you that only 1 out of 10 even shows any signs whatsoever of a propensity toward fighting. In most cases, someone who is fighting dogs will take the one puppy that is showing aggression to other dogs, and kill the rest. Then that dog is bred with another dog that shows similar traits and so on and so on, until they have a "fighting dog". In order to actually host a dog fight, human handlers (usually 2 or three people) have to be inside the ring with the dogs to "order" them to continue attacking and to prompt this behavior. Therefore the dogs CAN NOT have any human aggressive traits, as they are simply trying to please their owner, and if a dog was human aggressive, the handlers would be attacked.


In my home, I own 6 pit bulls, 3 of which are former fighting dogs, and they are the sweetest teddy bears you have ever seen. This is one reason that we in the rescue community get flooded with so many millions of "dumped dogs". People believe the media hype, and buy a huge dog from a breeder in the hopes that it will be a big scary guard dog. That dog grows up and is not aggressive at all, and they get rid of the dog. It's bizarre that the very traits that are exploited (the overwhelming willingness of a pit bull to love and please people) are the very traits that cause so many to be discarded. They are incredible fighters only because they are strong and will die to please their owner. People misunderstand this. Because a dog is trained to be aggressive or bred to be aggressive toward other dogs, DOES NOT equal human aggression. In fact dogs that will die for their owner are actually the most loving of a litter.


I was not aware of most of these injustices and ironies until we began filming the documentary "VICKtory to the Underdog" (http://www.youtube.com/watch?v=LZymzpYW_uU) and the film takes the viewer on a fact based account of what is really the truth about pit bulls and learns about a lot of this through my eyes, as I learn about it. We have been filming for years, however when Michael Vick brought all this into the public eye, it exploded in interest, and we are now able to reach a wider demographic of people. We are premiering this film at a huge celebration in Las Vegas march 14th where we are taking over the Palms Casino and the House of Blues in the Mandalay Bay Casino. 100% of all the profits from this event will go directly to Villa Lobos. There will be an amazing gourmet meal prepared by the nations top chefs, a "red carpet" premiere, and the event will be filmed by Animal Planet, there is an Art Show that is open to all artists who want to donate art, and a benefit concert.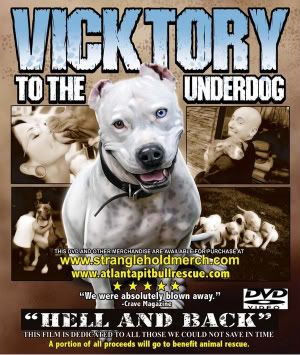 Information about this event can be found here: http://www.allornothingtattoo.com/index.php?sub=greatpitball It is open to the public and hotel/flight/ticket packages will be made available in the coming weeks, we will update that page as more info spills out.

What charities do you support – and how? My absolute favorite charity organization in the world right now is Villa Lobos, located in Canyon Country, CA. The program is not only the largest pit bull rescue in the nation, but it also affords parolees a second chance. People that may have made bad decisions, and were incarcerated are given the opportunity to work with the dogs, so the dogs are rehabilitating the parolees, while the parolees are rehabilitating the dogs. The results are amazing. I am donating a LOT of money in that direction, and already have done so from my personal bank accounts. However, we are also donating all the money from the Vegas "PIT BALL" and the proceeds from the film and Original Motion Picture Soundtrack that accompanies the film.


Another awesome charity I discovered during the making of this film was Wolf Mountain Sanctuary. A sanctuary open to the public where you can actually interact directly with 250 pound wolves! If you think pit bulls are intense, these wolves will blow your mind! We will also be donating some loot from the film to them, what they are doing is incredible, and they are in DESPERATE need of funding. The first thing to dry up in a bad economy is donations, and they were hit immediately and are struggling to get by. Send them some money you bastards! Every dollar counts out there. Visiting that place forever changed my life as did Villa Lobos. My publishing company is also publishing a children's book created by my wife, Ashley Bond, about her rescued fighting dog "Medusa" and she will be donating all the profits from that project to Wolf Mountain.
Please list their website:


http://www.vrcpitbull.com is Villa Lobos and http://www.theunderdawgz.com is the parolee website and on myspace http://www.myspace.com/vrc_pitbull, and Wolf Mountain Sanctuary can be discovered at http://www.wolfmountain.com and on myspace http://www.myspace.com/wolfmountain1 Also our pit bull website is http://www.atlantapitbullrescue.com.

Why do you have a passion for this one in particular, is there a personal tie? While we were filming this documentary, we were secretly seeking the most awesome places to donate the money that the film would inevitably bring in, where it would do the most good for both people and animals. I was interviewing my friend Pixie Acia from "Miami Ink", and later "L.A. Ink" and she insisted that we check out Villa Lobos while we were in California. It blew my mind completely, and was the nicest, cleanest, friendliest, most amazing pit bull rescue out of the dozens and dozens we visited to film. I have since grown extremely close to Tia Maria Torres, and her entire family of misfits. I love her dearly, and would take a bullet for her... seriously. She is a total bitch, because she doesn't take anything from anyone, I respect her, and I respect very few people on that level. The charity is helping people, and animals, and I immediately knew. I busted out my own personal checkbook TWICE while I was there, first writing a smaller check, and then ripping that one up and trading her a much larger one.



The same thing happened when we travelled up to film the actor Michael Berryman (One flew over the Cuckoos Nest, The Devils Rejects,The Hills Have Eyes) , who is also a long time friend of mine. he insisted that we stop by Wolf Mountain and do some interviews, and I have since been adopted by Tanya Littlewolf, who is now my Apache mother. She adopted my wife as well, so we are her children. So yes there is a very personal tie to both organizations, there problems have become my problems. And they have plenty of problems! (laughs)

Is there a particular way you would want to encourage readers to be involved? YES!!! There is a variety of ways anyone can help. Simply assisting us in our grassroots efforts to spread the word and our film, get multiple copies, make people watch it, help us repost bulletins on myspace, sell our movie on your websites, add links to everything we are doing everywhere, talk to anyone that will listen, put information about these charities and ours on myspace, and other community sites, place these pages in your top friends, ask your veterinarian to sell copies of our DVDs in their offices. Post the preview to our film on all your friend's pages, INVITE everyone you know to the huge fundraiser in Vegas! Put the preview of the film on your own websites and pages, force people to watch it. Knowledge is power.

Donate, one dollar, every chance you get to these charities, DO NOT SEND IT TO US!!! We do not want it! They NEED it. People are constantly trying to give us money, but we want these specific charities to have it. Send it to Tia, or Tanya. Donate .50 cents if that's all you can afford. Donate your TIME, go to a local no kill shelter and offer to simply WALK the dogs. Open your home to FOSTERING an animal scheduled for euthanization. Don't BREED your animals, there are plenty dying everyday and to add another litter just limits the homes available. Breeding effectively "undoes" the good that we are doing by saving them.

Donate a framed drawing, photograph, sketch, sculpture, or painting to the Art show at the Palms Casino for our art show. Come to the Vegas Gala! Send your family and friends to Vegas for this, we are coming together to celebrate, gamble, drink, watch a bad ass movie, and all the money goes to animals what is not to like?

Are there musical ties? Yes! we just completed an entire "Original Motion Picture Soundtrack" for the film and its already being shipped to people that order it from http://www.strangleholdmerch.com! It is entitled "VICKtory to the Underdog" of course, and it is amazing! There are actual sound bites from the film in between many of the songs and the songs are INCREDIBLE. The Title track was written specifically for this project and it of course is also entitled "VICKtory to the Underdog". It is a song dedicated to Mr. Michael Vick himself, and it is awesome. Every song was donated by these bands specifically FOR this soundtrack, and all my favorite bands are on here! Here is a list of the tracks on the CD:


34 TOTAL TRACKS!!!

1.) "God's Creatures Brutalized" Senator Robert Byrd (Stranglehold Publications/BOND Enterprises)
2.) "Vicktory To The Underdog" ROBOT ZOO (Stranglehold Publications/BOND Enterprises)
3.) "Only Yourself To Blame" TOETAG / EP: "Toetag/Shattered Realm (Eulogy Recordings)
4.) "Dogs are OUR Responsibility" DANNY TREJO (Stranglehold Publications/BOND Enterprises)
5.) "Godz Of War" SKAM DUST / EP :"Son Of Skarhead" (Eulogy Recordings)
6.) "Haunting A Ghost" SPYLACOPA / EP: "Spylacopa" (Rising Pulse Records)
7.) "Dog Won't Cheat On You" DAVE TEDDER/BRANDON BOND (Stranglehold Publications/BOND Enterprises)
8.) "Giants Will Fall" ON PARADISE BOULEVARD (Red Room 104)
9.) "Cooker" MADE OUT OF BABIES / Album: The Ruiner (The End Records)
10.) "Racism Pit Bull Style" TIA MARIA TORRES/VILLA LOBOS (Stranglehold Publications/BOND Enterprises)
11.) "The Calm" ON PARADISE BOULEVARD (Red Room 104)
12.) "I Decline" NO HARM DONE / Album: "Escape" (Think Fast! Records)
13.) "Forgetting Alli Mae" PADDOCK PARK / Album: "A Hiding Place For Fake Friends" (Eulogy Recordings)
14.) "Torturing Animals" DANNY TREJO (Stranglehold Publications/BOND Enterprises)
15.) "Romeo Is Banished" THE SIREN
16.) "A.C.A.B." FURIOUS STYLES / Album: "Menace" (Eulogy Recordings)
17.) "The Dream Is Not Dead" INHUMAN / Album: "Last Rites" (I Scream Records)
18.) "Dogs rule our f@#king lives" BRANDON BOND (Stranglehold Publications/BOND Enterprises)
19.) "Troubled Waters" THE MONGOLOIDS / Album: "Time Trials" (Eulogy Recordings)
20.) "Huge Leaps" ALARMED / EP: "Dog Days" (Dead Truth Recordings)
21.) "You Know Your Life Sucks" KIDS LIKE US / Album: "The 80's Are Dead" (Eulogy Recordings)
22.) "Year 2000 Catching Hell" TONYA LITTLEWOLF CARLONI/WOLF MTN. SANTUARY (Stranglehold Publications/BOND Enterprises)
23.) "Jumper" BISHOP / Album: "Drugs" (Death Truth Recordings)
24.) "Concrete Coffin" KNOW THE SCORE / Album: "All Guts, Still No Glory" (Double Or Nothing Records)
25.) "Mara" BARRICADE / Album: "Demons" (Eulogy Recordings)
26.) "Take Your Ass To The Shelter And Get A f@#king Dog" PIXIE ACIA (Stranglehold Publications/BOND Enterprises)
27.) "Hate For The World" SHATTERED REALM / EP: "Toetag/Shattered Realm" (Eulogy Recordings)
28.) "Finger On The Trigger" UNTIL THE END / Album: "From The Beginning, Until The End" (Eulogy Recordings)
29.) "Coming Up Roses" YEARS SPENT COLD / Album: "Moving Heaven To Hell" (Eulogy Recordings)
30.) "Michael Vick Lost His s&!t" BRANDON BOND (Stranglehold Publications/BOND Enterprises)
31.) "Centralia" CAR BOMB / Album: "Centralia" (Japanese Bonus Track) (Relapse Records)
32.) "Pitbull Blues" JOHN SHIPE / Album: "The John Shipe Song Clearance" (Involushun)
33.) "Sun Dog Ranch Road" JOHN SHIPE / Album: "The John Shipe Song Clearance" (Involushun)
34.) "Son of a b1tc4" TONYA LITTLEWOLF CARLONI/WOLF MTN. SANTUARY (Stranglehold Publications/BOND Enterprises)

FEATURED Audio tracks from: DANNY TREJO, PIXIE ACIA, BRANDON BOND, MICHAEL BERRYMAN, SENATOR ROBERT BYRD and more!

This soundtrack can be purchased directly from http://strangleholdmerch.com/soundtrack-vicktory-to-the-underdog-p-196.html and the profits will all go straight into the bellies of the face lickers at Villa Lobos.
How would you define social responsibility? I believe that every single good thing that has ever happened to me has been the DIRECT RESULT of me doing something good for someone else or something else. I have been given many gifts in my life, and anything that I can do to make my dark corner of the world shine; I feel is my OBLIGATION to do. There is nothing in the world more satisfying than helping others, and there is nothing more fulfilling than love. As tattoo artists, we suffer from a stigma, a stereotype, very similar to that of the pit bulls, and anything that we can do to break that mold needs to be done with blinding dedication. Human beings are the worst thing that happened to this planet, and the very LEAST we can do is try and mend the damage we have done to this planet, and to each other. I am not a hippy, nor am I a weak person, however there is something simply amazing about doing good things in the world, and I want to encourage MORE of that to happen with all of my strength to anyone who will listen. Don't judge a book by it's cover, and don't ever take anything for granted. Gratitude speaks volumes, and we need more of it! I am grateful for every single thing in my life both good and bad, and I hope that by being this honest with the world about my feelings that I can encourage others to do so.



Do you have any tattoos that relate to your social/charitable beliefs/work? (If yes, describe). Yes, the process of receiving the tattoo is documented in the film as well. I got an amazing full color portrait of my first pit bull "Cain" who is in fact a rescued fighting dog. He has been with me since way before anyone had ever heard of me or cared about my tattoo art. He has lived with me in a multitude of states, and toured extensively with me in my younger "crazier" days. He is my best friend on earth and luckily he is sitting here next to me as I type this. He is also one of the main dogs in the film, so everyone is about to get to "meet" him in all his glory. I thought when I adopted him I was rescuing him, he taught me later that it was actually the other way around

Quick list of tattoos/mention artists if you'd like: My entire body is tattooed at this point so I guess I only have one big one. They are all connected. At this point I get tattooed exclusively by my staff of amazing award winning artists at http://www.allornothingtattoo.com and http://www.antiartatlanta.com. Not one single member of our staff of over 70 people is actually FROM Atlanta, we import our artists from the convention circuit, the guys that are winning awards, and getting articles about their work. We tour extensively as a family of artists every year, and we are hunting constantly. That new kid, with stars in his eyes, and talent flowing out of him like fire. Those are the guys we are looking for, and those are the guys we import to the Atlanta area. Those are the guys I want to get tattooed by. Atlanta has one of the largest airports in the world, and a vast majority of our clients fly in. We provide shuttle service and hotel arrangements and transportation to our clients on a daily basis. We also have a variety of insanely talented tattoo apprentices that are learning from all of us. They are also awesome. There is so much amazing art happening under one roof in that building that it is like a tattoo convention every single day of the year. It is both an honor and an adventure to work in this studio and I learn something about art every single day I hang out down there.
http://www.brandonbond.com