Open letter from John Baker for The Roberto Clemente Award
Written by John Baker
Catcher Florida Marlins
I want to start by saying that I am incredibly honored to be mentioned in the same sentence as the great Roberto Clemente. I wear the number 21 proudly in his honor.
No matter where I've been, people of all faiths and walks of life have told me that things, both good and bad, happen for a reason. In January of 2010, the Florida Marlins gave me the opportunity to visit the men and women of our Armed Forces over seas in Kuwait and Iraq. I did some research and found out that despite the fact that we have Military veterans in our Hall of Fame in Cooperstown no active players had ever been to the middle east to support troops.
I learned right away that the service men and women did not care that I played Major League Baseball, they cared that I showed up in person to support them. The experience taught me that most of the time a person's most valuable philanthropic asset is their time and love.
I also learned that although it is the athletes that receive all of the glory and praise for their abilities, it is the men and women of our Armed Forces that should be receiving the nightly standing ovations. While in Iraq, we slept in a bunker in order to protect us from mortar shells that occasionally are lobbed over the base walls with the intention of killing or wounding the sleeping soldiers. It was the first and only time in my adult life that I went to bed scared of the dark. I made a commitment when I got home to do the best I could to support veterans in our community. It was then when I was first introduced to Standown House and Roy Foster. First, during spring training I spent some time with the men and women there and knew immediately that I would do whatever I could to both promote and help their noble cause: to make sure that no military veteran in South Florida is ever left behind.
On May 15th, I was placed on the disabled list with a nagging injury to my right elbow. At the time I thought I would be back with team in a matter of weeks, little did I know that I would miss the rest of the year. Part of my recovery process called for six weeks of complete rest. The rest period weighed heavily on my psyche. I love the game of baseball with all of my heart, and in nearly ten years of professional baseball I had never missed more than two or three games.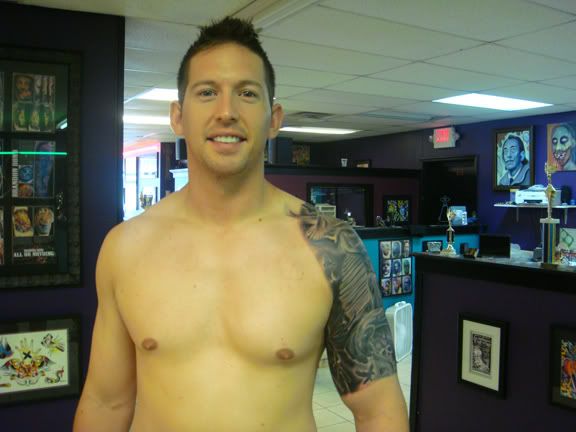 I again received a phone call from the Marlin. They asked if I was interested in helping spearhead their homes for Haiti campaign. The intention of the Homes for Haiti project is to build a Haitian village with twenty five concrete family homes. Since I had a few more weeks of rest, I agreed and hopped on a plane with Food for the Poor bound for Port Au Prince. I wish I could say something positive here, but the truth is that the situation in Haiti is both bleak and heavily disturbing. I had no idea that Haiti was a mere hour and ten minute flight from Miami, closer by plane than any of our division rivals. Tents abound, rumors of government corruption run rampant, and many people there are homeless or starving. While the situation is bleak, the spirit of the people is strong. I met children that smiled and laughed despite recently losing their entire families. I learned immediately that no matter how bad one thinks their situation may be, someone very close is going through something much more difficult with a smile on their face. This lesson has helped me immensely as I recover from Tommy John surgery. Anytime the rehab seems too tough, or the injury too painful, I think back to the kids I met and their positive attitudes and I gain hope.
Please take the time to vote for me for the Roberto Clemente award, winning this award would garner national attention and funding for both Standown House and the Marlin's Homes for Haiti project. I am pushing as hard as I can to give back as much as I can, because these experiences have taught me so much. Sometimes as players we are so concerned with wins and losses that we forget to take a broader view of our surrounding community, I hope to never make that mistake again.
John Baker





Follow John Baker on Twitter:
http://twitter.com/manbearwolf





All or Nothing Tattoo
2569 S. Cobb Dr.
Smyrna, Ga. 30080
Phone: 770.435.9966
APPOINTMENT INFO




Brandon Bond
Joe Waulken
Taylor Jordan
Michael 'Genghis' Ray
Collaborations




Brandon Bond
Genghis Ray
Joe Waulken
Magic Juan
Taylor Jordan





MLB Players get tattooed at All or Nothing
Tattoo Convention Photos
All or Nothing Invades Europe
Mike Busey Visits
Around the Shop
Tattoos that say All or Nothing
Celebrity Tattoos
Darker Skin
THE GREAT PIT BALL
Shop Expansion Photos
Behind The Scenes
-VICKtory to the Underdog
Our Film Wins Film Fest Award
The Apprentice Corner
Atlanta Braves get tattooed at All or Nothing Tattoo
Brandon Bond returns to All or Nothing
Guest Artist Galleries
Filming of LA Ink with Kat Von D
Tattoo Seminars
Testimonials
New Pictures
Collaborations
StrangleHold Merch
AoN Studio Tour
Halloween Party '05
It's A Wild Ride '05
Past Party Pictures






Kingpin Supply



Eulogy Recordings




Tattoo enthusiasts would surely love the collection of <ahref="http: www.rankmytattoos.com="" tattoos="" tribal-tattoos="">tribaltattoos at rankmytattoos.com
<ahref="http: www.rankmytattoos.com="" tattoos="" tribal-tattoos="">
Hardnox Clothing